Before I begin, I must say the bags under my eyes feel as though they could hold an entire week of groceries. I went to bed late thanks to my over-active brain and I woke up earlier thanks to an alarm clock. The buzz couldn't be ignored because I needed to work out at the awful hour of 6am. Have I ever mentioned I'm not a morning person?
I've had two doses of caffeine, but my eyes are drooping, so I'll see what I can put together in the theme of 'Casual Thanksgiving Dinner' before I fall face first into this keyboard. If I start talking gibberish halfway through the post, you know why. But really, it's Friday and I have to imagine you're this tired too. How many cups of coffee have you had? Five? Six? That's not so bad, my friend. I'm here pulling for you.
And now for a few festive items to adorn the Thanksgiving dining room.
Threshold Fox Salt Shaker in Cream, $2.99 at Target
I've been getting many clicks on the fox salt and pepper shakers I featured last year on my blog. I'm not certain the links still work, but I know I've seen these table accessories at my local Target store. I figured it would be helpful to include an updated link. They also come in a nice shiny bronze, which I couldn't find online, but is my far and away favorite variety.
Threshold™ Stoneware Fox Cookie Jar – Teal, $19.99 at Target
If you're very into foxes, Target also has this 'teal' fox cookie jar. I feel the need to mention that this color isn't teal, but rather a nice hunter green. In my local store, they have it positioned beside a french bull dog jar. Interesting bed (shelf?) fellows.
Allure Hand Knotted Rug $129.00 – $1499.00 at BallardDesigns.com
Dining rooms aren't a great place to install crisp, white carpet. If you find yourself in the precarious position of having light carpet in your dining room, no need to fear. Just purchase a great area rug and all of the food that will be spilled won't make you sweat. Opt for a rug with varied pattern and multiple colors. The stains will be nicely disguised. I fell in love with the rug pictured above. Those colors speak to my heart. If you serve a lot of red wine and tomato sauce, go wisely in the direction of a red palette. Your stress levels will thank you.
Bunny Williams Leaf Candy Dish, $35.00 at BallardDesigns.com

For the fall dining table, you might want to place nuts, figs, mints, or whathaveyou as little appetizers before the big meal. Then the question becomes, "What should you use?" These fig leaf silver dishes are a sophisticated fall choice that serve two purposes on the table: 1. seasonal decor and 2. food dish. Let's be honest, there's no room on the table for items that aren't holding food.
Cafe Mug, $3.95 at Crate and Barrel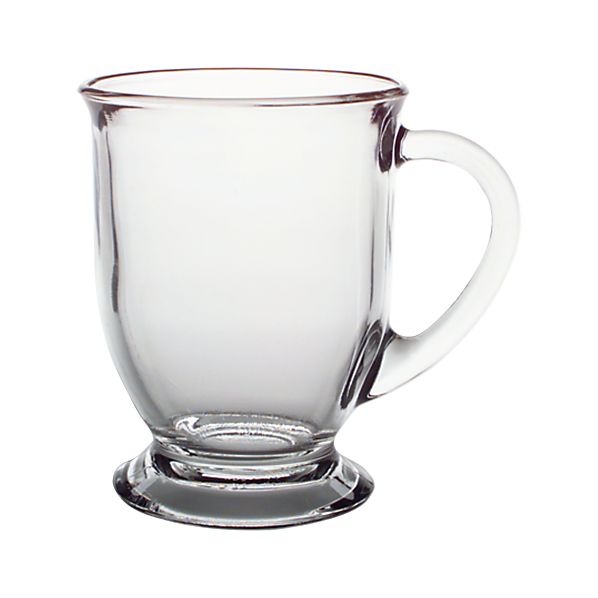 After a large meal, people at my home request hot beverages and mainly the type brewed from coffee beans. I have two of these mugs and love the way they feel in my hand. Their shape is great for sipping. Plus I love the look of a hot beverage in a glass mug. So pretty!
Blanket Stitch Napkin Set Sale, $11.99-20 at West Elm.com, can be personalized, also available in Hazy Blue/ Flax (I'm torn between both color options)
The holidays can get so stuffy with the silverware, the silver dishes, the crystal goblets. Oh, you don't drink from crystal goblets? Neither do I. I don't believe in a family get together being too uptight, but I do think there should be a certain level of specialness to the meal. This cloth napkin will add to the elegance of your dinner, but the casual look of the blanket stitch will ensure the uppity factor doesn't go through the roof.
Farmhouse Pottery Gravy Pitcher $29 at West Elm.com, matching salt cellar available
I began my art career as a ceramicist and I'm drawn to pottery pieces that have nice texture and lines. This pitcher would be great near the Thanksgiving table especially if it is filled with a bubbly concoction or even the classic iced tea. I could see using this as a pancake batter pourer if it isn't too heavy.
Williams-Sonoma Edge-Grain Carving Board, $99.95-229.95, at Williams and Sonoma, available in medium and large, walnut and maple (walnut shown)
Serving trays in solid wood are an excellent option for placing bread, cheese, veggies or fruit. This one is expensive, but I have a difficult time passing on something made with dense, hard wood. I think the walnut stain is just divine. The dark color will contrast nicely with food.
Harvest Turkey Statue, $59 at Wisteria.com
If you need a centerpiece or buffet table decorative accent, look no further than this turkey sculpture. My parents have a similar looking turkey that is far smaller and painted. When I was a child, that turkey sculpture graced the highly decorated table and represented the commencement of the holiday festivities. Yes, a turkey is a bit obvious, but it's the holiday season so why not bring some whimsy?
Silver Woodgrain Lacquer Chargers, Set of 4, $11.96 at WorldMarket.com, also available in gold and driftwood
I'll let you in on a little secret of mine that's not a secret to anyone I'm close with: I don't like decorated plates. This directly has to do with my need to keep visual over-stimulation to a minimum. Classic white plates are the best dishes to serve food on – hands down, there is no need for a jury. But, I do like charger plates that act as a background frame to the white plate especially when they're resting on a simple tablecloth. Here is a delightful silver charger in an intriguing wood grain finish. They also have a driftwood charger if you're looking for a more laid back dinner.
I hope you enjoy these pieces, I hope to goodness the links work and now I'm off to go nap. Ciao.