I was supposed to do a lot of writing yesterday. I promised myself that I would be a writing blur of energy, ripping over the keyboard with the most magnificent of creative force. And that's exactly what happened.
Ha! Oh, I jest. That's not at all what happened. What actually happened was me doing a lot of thinking about writing. Some dust settled on the keyboard as I stared at the blinking cursor for three hours. I did write a little though, but not as much as I was hoping. I need to plan out where this internet semi-novel, experimental project is heading. This is a lesson I learned after 4 years of writing my big novel and saying, "Wait, this isn't where I wanted the novel to head." I'd rather not repeat it.
I'll be working on the writing experiment this weekend so I can move those characters to the back burner of my conscious thought. My aim is to get the story completed this weekend.
Oh, me and those lofty dreams! In the meantime, I've included some fall home accessories that caught my eye. I wasn't planning on establishing a theme, but it happened anyways. For some reason, I'm really enjoying white, gray and metallic elements for fall this year.  Enjoy the browsing.
These two images (above and below) are the obligatory fall colors that are not included below.
Threshold Set of 3 Decorative Fall Figurines, Target, $22.99
They also have brushed gold and wooden versions. They are simple, classy and not too expensive. That's always my favorite kind of seasonal decoration.
Framed Snake head print – 1 of 3, West Elm, $149
This is picture one of the series. It shows the entire x-ray of the rattlesnake. This fascinates me to no end. I'm not afraid of snakes since I had to work with them for years, but if you are, you might want to keep scrolling – this probably doesn't fascinate you. If you're into science-y things, you should check out the full collection. This is probably man-cave approved art.
I'm a sucker for anything in the copper color family. This bowl is the perfect color for autumn, but would work in all seasons. And it's shiny and textural and handy. Picture this on a marble counter – stunning! What a beautiful bowl for the money.
Gray and White Chevron Throw, World Market, $29.99
I also have a weakness for chevron prints and this blanket would be a cozy addition to any room. It has graphic interest, but is also understated due to the mellow colors – great combination. Throw it over the top of the sofa or chair and it should work in most rooms. It will transition through all of the cold months – bonus.
Faux Fur Throw Chinchilla, Pottery Barn, $129
Many years ago, I bought a very similar blanket at Pottery Barn for my husband. It was half this price because I purchased it on clearance and it has been one of the best purchases I've made. We currently have this at the foot of our bed (lying atop a white duvet) and on the cold nights, it is just the right amount of weight and thickness to keep the heat in. Ours is soft, but I imagine the faux chinchilla must be superior.
Dotted Velvet Pillow, Antropologie, $58.00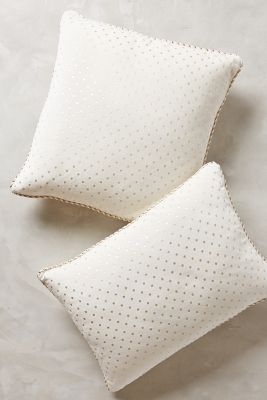 These wouldn't fly with my husband. They would need to be in my woman-loft. I appreciate the low-pile velvet and glimmering effect of the small metallic dots. They are dainty and feminine.
Threshold™ Ikat Toss Pillow (18×18″), Target, $24.99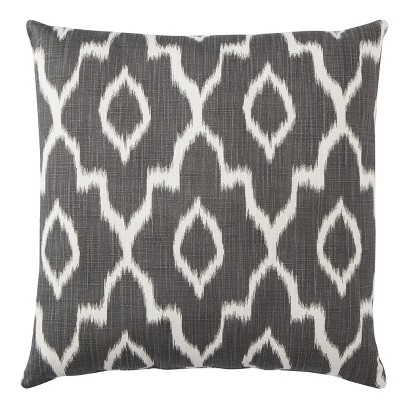 I think Ikat is taking over the world right now. At least the design world, that is. I've always enjoyed it and I like this take on the pattern. Two colors, simple and tasteful.
Nordic Ware Great Pumpkin Cake Pan
If I'm honest, this is the best part of fall – the food. If you'd rather eat your decorations like me, I'd recommend this pumpkin bundt pan. I'm not a fan of one-use kitchen utensils, but I could bend the rule for this one. I'd make so many to deem the purchase worthwhile.
Halloween Haunted House Kit, Williams and Sonoma, $19.99, sale
I have a confession to make: I've never made a gingerbread house. I've made gingerbread men and ladies, which were Christmas decorations and not edible (because my parents wanted to be cruel, apparently) (but don't worry. I ate one anyway. It was a mistake. My mouth burned for days afterwards. Yes, I was a strong-willed child. Why do you ask?). Perhaps I can make up for my lack of childhood nostalgia and buy this! At this price, I think it's worth it.
Thank you for indulging my procrastination. I must get back to work now. On a different fall note, I hope your football team wins this week – there are some mighty good games on this weekend. Have a good one!